Contour Vinyl T-Railing
Classic T-Rail Design
Sarasota II Rail
The Sarasota II features a 3 1/2″ x 3 1/2″ T-Rail for the top rail and a traditional style 2″ x 3-1/2″ bottom rail. The pickets are 1 3/8″ x 1 3/8″ wide. Both top and bottom rails have metal inserts for additional strength. The Sarasota II Rail is our strongest most durable rail system. It offers premium materials and our unique vinyl formula, ensuring the highest quality. Sarasota II is available 36″ & 42″ High and 4′, 5′, 6′, 7′, 8′, 9′ & 10′ widths
St Petersburg II Rail
The St Petersburg II Rail features the same great features as The Sarasota II rail except with 1 3/8″ x 1-3/8″ tapered spindles. The Salem top and bottom rails have metal inserts for added strength. The Salem spindle style railing has the look of authentic hand truned spindles. The Salem Rail is our strongest spindle style rail and is available 36″heigh and 4′, 5′, 6′, 7′, 8′, 9′ & 10′ widths.
Modern T-Rail Design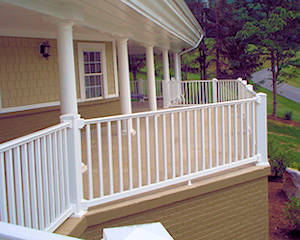 Hillcrest Rail
The Hillcrest Rail is a modern, sleek T-Rail design that is available with 1-3/8″ square pickets. The Hillcrest has metal inserts in the top and bottom rails for added strength.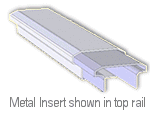 The rail brackets are 1-piece design for easier installation.The Hillcrest Rail features a low profile, streamline appearance. The classic curves and bold traditional appearance give it the Sleekest Look in railing. Hillcrest Rail is available in both 36″ and 42″ height making it perfect for either residential or commercial applications and 4′, 5′,6′, 7′, 8′, 9′ & 10′ widths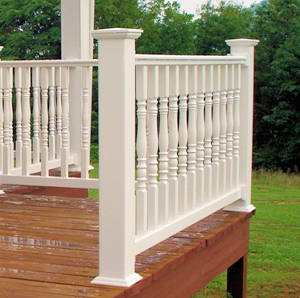 Parkcrest Rail
The Parkcrest Rail has the same modern, sleek T-Rail design as the Hillcrest Rail except with 1 -3/8″ turned spindles. The Parkcrest Rail offers metal reinforcement in the top and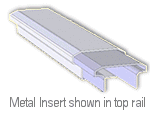 bottom rails so you know your railing is strong and durable. With the authentic look of a hand turned spindle, all you have to do is add a turned spindle porch or newel post for the perfect finishing touch. Available 36″ high and 4′, 5′, 6′, 7′, 8′, 9′ & 10′ widths.