The long lasting value of Vinyl Railing…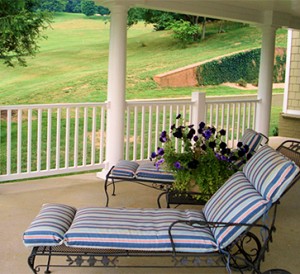 Vinyl railing; the perfect accent for your balconies, decks and porches. Imagine never having to paint your fence or railing again. How about a lifetime limited warranty. Imagine the added beauty and value vinyl railing and decking will add to your property.
At Wholesale Vinyl and Aluminum, of Abingdon, VA, we feel we are up to date on all the latest in vinyl fencing and porch railing, offering custom sizes and products you will not find at your average store. Come in today and let us figure out everything you will need to make your job just as you imagined and then some.
Railing styles to chooses from:
Traditional Vinyl Railing
Wholesale Vinyl's traditional vinyl railings stand the test of time. They will never go out of style and represents the country living we grew up with.
Contour T-Railing
Wholesale Vinyl's contour t-rail vinyl railing styles offer the simplicity and style your contemporary home demands to compliment the architecture.
Balustrade Vinyl Railing
Wholesale Vinyl's balustrade railing styles enhance the beauty, character and value of fine, timeless architecture.