Wholesale Vinyl and Aluminum is proud to be a partner with another family owned and operated company, Vinylmax Windows. At Vinylmax, quality is a huge value and they have combined detail with worry-free performance. Vinylmax has been carefully crafting custom vinyl replacement windows for 30+ years.
Vinylmax replacement windows are made with fully extruded vinyl frames and sashes for durability with no chipping, peeling, flaking or discoloration and warranted for as long as you own your home.
Vinylmax Replacement Windows are offered in four series that meet the requirements of an ENERGY STAR qualified product. By selecting one of the triple pane options; IntelliGlass Plus or IntelliGlass Supreme, most Vinylmax products will meet or exceed the R5 window standard set by the US Dept. of Energy. By selecting a R5 product over a basic ENERGY STAR (R3) window, the amount of heat loss through the window may be reduced by 40%
Meeting the highest standards in windows, Yours.
Easton Series
Insulated Super Polymer Vinyl Siding Do you live in a climate where your home may experience extreme temperatures or weather? Consider cladding your home's exterior with the #1 Rated* CedarMAX insulated siding.
Details: Easton Series
Hyde Park
Hyde Park Series Premium Vinyl Replacement Windows by Vinylmax offer the quality you value and the value you expect. Hyde Park Vinyl Windows feature Double Strength, double pane insulated glass that includes a glass breakage warranty.
Available in 7 decorator exterior colors with white and Tan Interior colors as well as Maple and Cherry laminate interiors.
Lifetime Warranty
Hyde Park Styles Available
1. Double Hung
2. Sliders
3. Picture Windows
4. Casements
5. Architectural Shapes
6. Bay & Bow Windows
Details: Hyde Park Series
Sherwood Series
Fall In Love with the Autumnwood Collection There's only one thing you'll love more than the beauty of the Autumnwood Collection-and that's how simple it is to maintain. When you choose Autumnwood, you choose a virtually maintenance free exterior siding.
Details: Sherwood Series
Other Vinyl Max Replacement Window Styles Available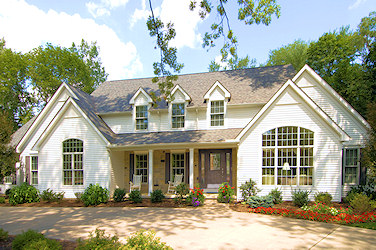 Pricing varies with each style.
Please contact us to get an estimate on the material for your home or building.