Exterior Siding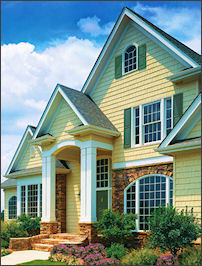 Wholesale Vinyl & Aluminum, of Abingdon, Va is a premier supplier of exterior siding to the residential and commercial industry. We have been supplying superior siding products to our customers since we opened our doors in 1988. Only carrying the markets best, in order to provide a quality product at a reasonable price that allows the end user; the homeowner, to rest knowing they will not have to worry about the exterior of their home.
When you are ready to build or remodel the exterior of your home, you may feel overwhelmed by the number of siding options available. Choosing from manufactures such as, Heartland by ProVia, a leading manufacturer of quality vinyl siding. Mitten Inc., family owned and operated, manufacturer of quality vinyl siding. Exteria Building Products, pioneers of early cedar replicas in polypropylene. Foundry, delivering quality vinyl cedar shingles and shakes, and NICHIHA, which is poised to fundamentally change the face of the exterior cladding market with their fiber cement products. Let us, at Wholesale Vinyl & Aluminum, help you by asking questions and giving you our professional input. You are guaranteed to find the look that you have always imagined, or maybe you'll walk away with something you never thought about but fell in love with once our professional staff showed you all of your siding options.
Here are three important things to consider when selecting your exterior siding:
Climate and geographic location
Will your siding need to withstand extreme heat or cold, high winds, frequent storms or hail? If yes, windload-tested, anti-weathering siding that will endure harsh elements could be for you.
Insulated siding – also referred to as foam back siding, may be your best option. Made with rigid EPS foam laminated to the back of its panels, resilient foam siding is more energy efficient, will resists impacts, as well as mold and mildew, will not fade, warp, dent, or crack, and eliminates the empty space behind traditional vinyl siding, making blow-offs less likely.
Home type and preferences
The architecture of your home, as well as your personal taste, may also suggest the best type of exterior siding for your needs.
Board n' batten vertical vinyl siding– while it looks good on conventional and contemporary homes alike, this alternating wide boards and narrow wooden strips, called battens offers a fresh yet practical styling.
Fiber Cement Siding– available in a lap board, smooth and wood-grain, traditional shakes, or panels. When combined with each other or a different type of exterior products you can create a dramatic effect that leans toward rustic charm or ageless elegance.
Budget
Vinyl siding remains one of today's most affordable siding options and comes in a variety of grades, including: standard, premium, and super premium. You're certain to find one that fits your budget.
Stop by and let us at Wholesale Vinyl give you a comparison on different grades of products. You would be surprised how affordable exterior siding can be.
Exterior Siding Choosing Shake Siding? Choosing Vertical Siding? Choosing Horizontal Siding?