Strong, Graceful, and Maintenance Free …Aluminum Fencing is elegantly your pick.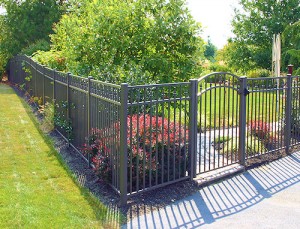 Aluminum fencing isn't a product you've seen much being installed over the past decade. However, in the past few years, aluminum fences have been popping up in subdivisions all over. With the look of wrought-iron but at a much less cost and maintenance your yard will radiate elegantly. At Wholesale Vinyl & Aluminum we offer two superb manufactures of aluminum fencing to choose from.
Style-Rite Industries has been a key player in the aluminum fencing industry for 30 plus years and at Wholesale Vinyl & Aluminum we have been teamed up with Style-Rite since our birth. Feel free to stop by our show room to see our selection of Style-Rite products.
Keylink Fencing & Railing, Inc. is a leading provider of aluminum fencing for commercial fencing projects. Let their high quality Morgan Aluminum Fence Series add grace and charm to your yard, swimming pool, or landscape. Their fencing options allow you to individualize your fencing according to your taste.
For More Information on Style-Rite Aluminum Fencing Style-Rite
For More Information on Key-Link Aluminum Fencing Key-Link