Our History
After 15 years of working in the building and remodeling industry, John Berry decided it was time to take a leap of faith and become an entrepreneur himself. Planning, researching, and gathering the courage to make his dreams come to reality, they finally did on a cold morning in February 1988 when he opened the doors of Wholesale Vinyl & Aluminum, Inc. The company began in 10 small 10' x 25' mini-storage warehouse bays with one being the office. The company's inventory consisted of one product line: Heartland Vinyl Siding in 8 colors, one in each 10' x 25' bay and one bay for accessories.

Wholesale Vinyl started growing from day one and in two and a half years moved into a new five thousand square foot building adjacent to the mini warehouses. Growing pains continued for the company. In 1994 the company bought a parcel of land just up the street from its birthplace and built a new warehouse / showroom complex. In January 1995, Wholesale Vinyl and Aluminum moved into its new home. In 2001 the company added eighteen thousand additional square feet. Today, Wholesale Vinyl and Aluminum, Inc. corporate office consists of thirty-five thousand square foot warehouse with twenty five hundred square foot office and showroom facility located at 25342 Lee Highway in Abingdon, Va. The company has evolved from a single product supplier, supplying one clientele, into multiple product lines serving Builders, Remodelers, and Building Supply Companies. Today, Wholesale Vinyl markets a complete line of Vinyl and Aluminum building products for the exterior of a home.
Our Mission
Wholesale Vinyl & Aluminum's mission is to integrate our family's values and beliefs into our business by always putting our customers first and treating others the way we want to be treated. Providing the best customer service that we can, allowing our customers to leave with a peace of mind that their needs are being met, all while providing the brands and products customers want at a competitive price.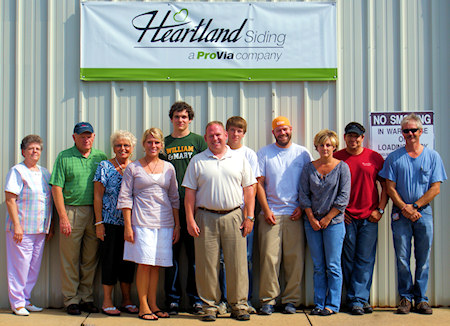 Our Staff
Who are we? We're a group of folks who know a lot about exterior vinyl and aluminum products & we're here to help you expand your knowledge of our products & the installation of our product lines. We, at Wholesale Vinyl & Aluminum, pride ourselves on our outstanding customer service & believe our best resource is our knowledgeable staff.
Whether you are a distributor looking for a quick quote, a contractor needing quick installation advice or a homeowner with a couple of questions, feel free to give us a call or send us an email. Remember, we're here to help.
Kim Sutherland
– Inside Sales/Customer Service
LeRoy Shaver
– Inside Sales/Receiving
Josh Faidley
– Delivery Specialist
Daryl Heath
– Warehouse/Fence & Rail Specialist