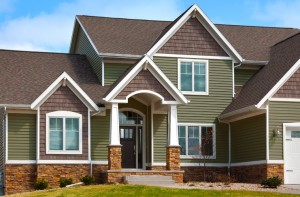 Vinyl siding remains one of today's most affordable siding options and comes in a variety of grades, including insulated,
premium, standard, and economy. You're certain to find one that fits your budget.
Mitten's success can be attributed to its unwavering dedication to producing premium-quality products that our customers can count on. While their product offering continues to evolve and progress, one thing remains set in stone: all Mitten products are backed by a lifetime warranty. Rest assured, when you choose Mitten Inc.'s premium products, you are buying the BEST. Your satisfaction is Mitten's reputation!
When it's quality and curb appeal you're looking for, the obvious choice is Mitten for your home's exterior. Mitten also provides a selection of vibrant ACT; Advanced Color Technology colors.
12 specific styles of siding to select from Mitten.
InsulPlank II Insulated Siding
Your Home Is Your Castle! InsulPlank provides strength, energy efficiency, and beauty for your home's exterior!

InsulPlank® gives you long term value – engineered to lay flat on walls and provide wind resistance up to 200 mph. Double thick nail hems and InsulPlank® SecureLockTM technology gives you peace of mind knowing your siding is locked in place, protecting your home for a lifetime.

Details: InsulPlank II Siding
Sentry Vinyl Siding
PLACE YOUR CONFIDENCE IN SENTRY®
Sentry offers a roll-over nail hem that increase rigidity and resist bowing and buckling, also having a built-in nail stop to allow natural expansion and contraction of the panels.
Heavy wall panel thickness of .044″ for strong and durable performance
Contemporary cedar grain texture with a low gloss Color-Rich
Details: Sentry Vinyl Siding
Oregon Pride Siding
Oregon Pride provides both classic styling and natural beauty. With a subtle wood grain appearance, wide color offering and a huge selection of profiles to choose from, Oregon Pride is the perfect choice for any home.
Durable .040″ nominal panel thickness
Realistic wood-grain texture
Wide range of popular profiles and colors to choose from
Details: Oregon Pride Siding
Other Mitten Styles Available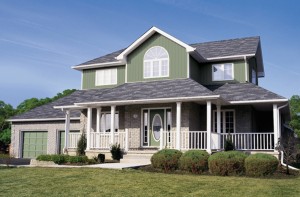 Pricing varies with each style.
Please contact us to get an estimate on the material for your home or building.
enVision it yourself
Are you tired of the color of your home? Have you ever wondered what your house would look like with a different color and different style of siding on it? Or are you building a house and can't decide on what colors to use? enVision it will allow you to play with colors and find the fit for you and your family.
Details: enVision it