When choosing railing for your house this is one product you should never skimp on. Not only does it add curb appeal to the look of your home but it adds safety for you, your family, and friends.
At Wholesale Vinyl & Aluminum we feel we are the experts when it comes to porch railing and it is important to us to only offer what we feel are the best products on the market. That is why Wholesale Vinyl & Aluminum has teamed up with Keylink to offer our customers a high-end aluminum railing product that not only will exceed your expectations but will be the talk of the neighborhood for years to come.
Three profiles and Fourteen styles of pickets to select from makes railing entertaining
Arabian Railing
Offering exceptional versatility, the Arabian Series is a unique, heavy wall, extruded aluminum railing sold in boxed sections.
Currently available in 36″ and 42″ heights, and 6′ and 8′ lengths in a variety of popular powder coated colors.
Chose between eight picket styles to achieve the look you desire.
Details: Arabian Railing
American Railing
The American Aluminum Railing System lives up to its name with quality materials and fabrication of this unique flat top aluminum railing. The American Series is heavy wall, extruded aluminum railing that is sold in boxed sections and offers exceptional versatility.
This aluminum railing is finished with weather resistant textured powdered coating in Black, White and Bronze in 36″ and 42″ heights and 6′ and 8′ lengths.
Details: American Aluminum
Lancaster Railing
The Lancaster Series is yet another quality line of aluminum railing. With both the materials and the fabrication of this aluminum railing made in the USA, the Lancaster Series is truly a great investment.
Are you looking for an aluminum rail style that is not like the rest? If so, The Lancaster is for you. With a 2.8″ x 3.25″ top rail and an 1.5″ x 3.25″ bottom rail, your porch will be the envy of the neighborhood.
Details:The Lancaster Series
All Arabian Aluminum Rail Styles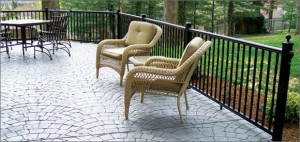 All American Aluminum Rail Styles
Pricing varies with each style.
Please contact us to get an estimate on the material for your home or building.