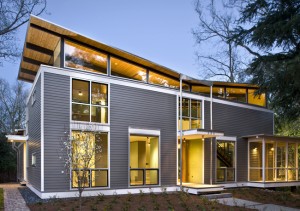 Create beautiful building exteriors with NichiBoard™, NichiShake™ and NichiPanel™ siding products.
Have Beautiful Aesthetics
Nichiha offers homeowners fiber cement siding options that not only beautify a home, they transform it. Homeowners looking for high resale value and an appearance that transcends time, need not look further than Nichiha. The intrinsic beauty and value of our shake, brick, stone, block and smooth textures fit perfectly with today's popular home styles and equally enhance traditional and contemporary home decors.
Fiber Cement At Its Best.
NichiBoard
The classics never go out of style. The traditional beauty and character of smooth and cedar textured lap siding is as popular today as it was in earlier times.
The choice of smooth or deep grain cedar texture and the variety of lap widths makes NichiBoardTM the ideal choice for not only its ease of handling and quick installation, but also low-maintenance, and high-profile curb appeal.
Details: NichiBoard
NichiShake
Everything you love about cedar. NichiShake delivers all the warmth and charm of traditional cedar shakes, without the tricky and timely installation process and the lifetime of ongoing maintenance.
Available in 6 1/4″, 8 1/4″, and 12″ widths, staggered or straight profiles. You will be sure to find the look you have always dreamed about.
Details: NichiShake
NichiPanel
NichiPanel™ siding is designed for vertical wall applications; full wall exteriors and the popular board and batten style can be achieved with NichiPanel™.
Available in 4'x 8′, 4′ x 10′ and 4′ x 12′ panels and in either smooth or cedar texture.
The 5/16″ panels offer greater design flexibility while still getting the value of long lasting and low-maintenance.
Details: NichiPanel
Other Nichiha Styles Available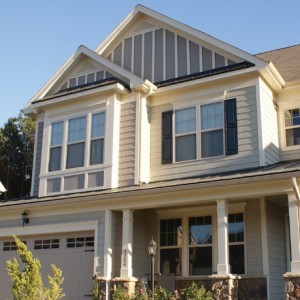 Pricing varies with each style.
Please contact us to get an estimate on the material for your home or building.