Exteria Composite Exteriors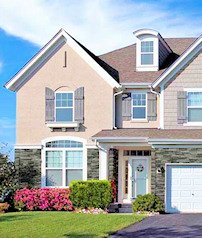 Go one step better than nature with Exteria composite exteriors for your home. Experience the striking options available to inspire you and transform your home into a place even Mother Nature would like to call her own. Make a statement and the neighbors jealous at the same time. It's easy with the authentic beauty of Exteria cedar and stone replica siding. Experience Exteria today!
While we're flattered to be judged on beauty alone, we're also proud that our siding products and services achieve a high standard of excellence in so many meaningful ways. Here are just a few.
Why Exteria Composite Exteriors
Authenticity
Exteria siding products are meticulously crafted using real cedar, brick and stone as templates. The results are a deeper, more realistic grain for our composite panels . . . and a deeper level of satisfaction our customers.
Durability
Using state-of-the-art manufacturing technologies and new hybrid components, Exteria has pushed composite exterior longevity to new extremes.
Choice
Exteria offers a unique variety of profiles, in color palettes that range from understated shades to dramatic, saturated hues. Over 70 options to choose make finding the exact color for your home exterior goals a pleasantly productive process.
EZ Installation
Our unique user friendly EZ LockTM panels install in 25% less time than traditional styles, saving time, money, and labor for the Professional Siding Contractor.
Low Maintenance
Our virtually maintenance-free exterior cladding products allow the homeowner to eliminate the time and expense of maintaining natural cedar year after year.
Affordability
Exteria composite cladding products faithfully mimic the beauty of real cedar, brick and stone at a fraction of the cost to the homeowner.