Wholesale Vinyl & Aluminum, Inc.
30th Anniversary
Hard work has been part of John & Janet Berry's life for almost as long as they can remember. John started working as a young kid when he got his own paper route, delivering papers before school everyday at the age of ten. As he got older, he owned and managed The Sweet Shop on Main Street in Abingdon, for two years while he was attending college at East Tennessee State University. Janet started doing friend's hair in the bathrooms of Abingdon High School, later opening up her own Salon, Janet's Beauty Salon in Abingdon, VA that she successfully owned for over 49 years.
At the age of 25, John began working for Sears Home Improvement Center, where he did kitchen and bathroom design, sold water heaters and exterior siding and roofing projects. After 15 years of working in the building and remodeling industry, John Berry started to see change in Sears as a company. He began to wonder about the future of their home improvement division so in order to continue in the industry he loved, because there was not anywhere within an hour drive that sold exterior building products and to continue working with his faithful customers, he decided it was time to take a leap of faith and become an entrepreneur himself. Planning, researching, and gathering the courage to make his dreams come to reality, they finally did on a cold morning in February 1988 when he opened the doors of Wholesale Vinyl & Aluminum, Inc. The company began in ten, small 10' x 25' mini-storage warehouse bays with one being the office. The company's inventory consisted of one product line: Heartland Vinyl Siding in 8 colors, one in each 10' x 25' bay and one bay for accessories. Wholesale Vinyl began with two employees, Mr. Berry and a warehouse worker/counter salesperson.
Wholesale Vinyl started growing from day one and in two and a half years moved into a new five thousand square foot building adjacent to the mini warehouses. Growing pains continued for the company. In 1994 the company bought a parcel of land just up the street from its birthplace and built a new warehouse / showroom complex. In January 1995, Wholesale Vinyl and Aluminum moved into its new home. In 2001 the company added eighteen thousand additional square feet to house its sister company, Outdoor Vinyl Products, Inc., fabricators of quality vinyl fence and porch rail products. Today, Wholesale Vinyl and Aluminum, Inc. corporate office consists of thirty-five thousand square foot warehouse with twenty five hundred square foot office and showroom facility located at 25342 Lee Highway in Abingdon, VA. The company has evolved from a single product supplier, supplying one clientele, into multiple product lines including vinyl, aluminum and composite building materials serving Builders, Remodelers, Home Owners and Building Supply Companies from Knoxville, TN to Roanoke, VA.
Over the years, John and Janet have employed several family members, making it truly a family owned and operated, small business, beginning with Janet's mother, Vivian Anderson as Wholesale Vinyl's very first bookkeeper and John's brother, Marty Berry as a Warehouse and Delivery Specialist. When their twin sons were old enough to start working, around the age of fourteen, they began working during summer breaks and holidays as warehouse staff and continued working until graduating college. Little did their one son, Jonathan Berry, know it was setting himself up to a career in the same industry. After college he went to work as a Manufacture Sales Representative for Heartland Vinyl Siding, the siding company Berry has sold for thirty years. Wholesale Vinyl & Aluminum was one of his first customers. In 2003, Berry's youngest child, Jennifer Berry Blankenship graduated from East Tennessee State University with a business degree and committed to jump on board with the family business as Outdoor Vinyl Product's, Outside Sales Representative, calling on lumber yards and building supplies across the region. A year later she joined Wholesale Vinyl & Aluminum's team as one of their Outside Sales Representatives as well.
Over the years, Wholesale Vinyl has had many successful stories; seeing their products on countless residential and commercial properties across the region is something to be extremely proud of and thankful for. The successes have also come with challenges, owning your own small business is not always easy. You are practically married to it, seven days a week, but somehow everything seems to fall into place. One of the hardest times was when recession began in 2009. It hit and it hit the building industry hard. Many companies went out of business, laid employees off and if you were able to keep going, you were counting your blessings. Today, Wholesale Vinyl runs on a smaller crew, but they are incredibly thankful for their team of employees. They are more than employees, regardless if they are blood related or not, they are all family.
Wholesale Vinyl & Aluminum's mission is to integrate their family's values and beliefs into their business by always putting their customers first and treating others the way they want to be treated. Providing their best customer service and allowing their customers to leave with a peace of mind that their needs are being met, all while providing the brands and products customers want at a competitive price.
From day one, Wholesale Vinyl's customers have been their number one reason for their Why. Why they continue to focus on customer service. Why they continue to bring new product lines to the table. Why they go above and beyond even for the smallest sale and why they never give up. Their customers are more than just customers; over the years they have become friends and family. John Berry and his team truly believe their customers are the most important part of their success and would like to thank each and every one for being loyal and supporting a small, family owned business over the years.
As a token of their appreciation, throughout 2018, Wholesale Vinyl & Aluminum plans on giving back to the community and to their customers with an array of events. Beginning in March, Wholesale Vinyl will host a food drive for Abingdon's Faith in Action Food Pantry. Not only being a drop off location for others to donate canned goods, but also for every dollar spent at Wholesale Vinyl they pledge to give a portion back to the food pantry in food donations. May is marked as Customer Appreciation Month, giving back to the customers who have been so loyal over the years. Be sure to keep an eye out for a list of events on Wholesale Vinyl's Facebook page and website throughout the entire year. Everyone at Wholesale Vinyl wants to say, Thank You for your support and friendship over the past thirty years.
For more information about Wholesale Vinyl & Aluminum, Inc. check out their website www.wholesalevinyl.net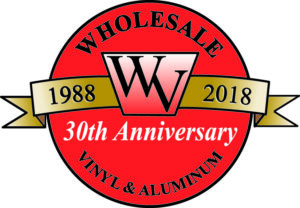 Please follow and like us: